Check out fast with our mobile wallets. A mobile wallet allows you to electronically carry your SMB debit or credit card on your mobile device and make secure purchases in stores, in apps, and online. You'll enjoy all of the protection and monitoring of your card with the added luxury of a mobile wallet.
Meet the wallet that will change the way you pay.
Apple Pay
Quickly make secure purchases in stores, in apps, and online using your
compatible iPhone, Apple Watch, iPad and Mac.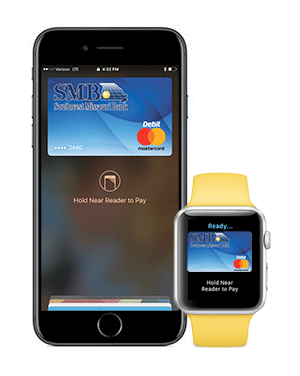 Samsung Pay
Pay virtually anywhere and earn extra rewards using your compatible
Samsung Smartphone and Gear Smartwatch.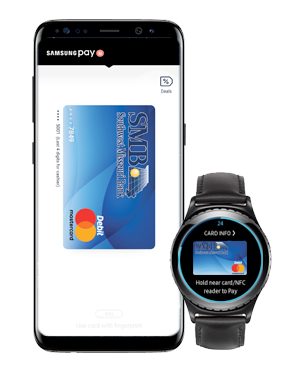 Google Pay
Make secure payments in-store, in- app, and online with your compatible
Android Smartphone, Tablet, and Smartwatch.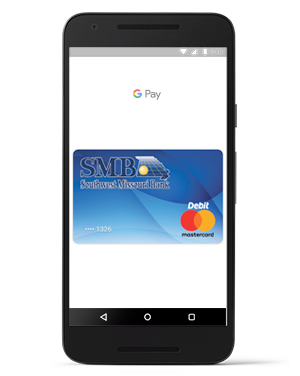 How is using a mobile wallet better than swiping/dipping my card?
How much time do you have? We have quite the list.
Pay safely – Has your card ever been compromised? With the unique device account numbers and tokenized transactions, your 16-digit card number is never shared with merchants and there is no magnetic stripe to be duplicated.
Plan B – How many times have you forgotten your wallet, purse, or your card in a pants pocket? Your mobile wallet is there to save the day.
More rewards – We know SMB Rewards on your debit card are awesome, but when you add Samsung Rewards... one transaction = double points
Discounts – With Samsung Pay and Google Pay, you can get exclusive offers just for using your mobile wallet.
Keep your feet up – When you're comfy on the couch, online shopping, ready to check out and your card is in the other room, don't move a muscle! Select your mobile wallet at check out and never miss a second of relaxation.
Fast checkout – Don't you just love waiting in the checkout line with a toddler? All of that candy and lip balm just ready to be taken home? Check out with a tap and you're home free.
Less digging – Who has the time to clean out that purse? No more digging for your card; the phone in your pocket will do the trick.
Hands free – Are your arms full? Pay hands-free with your smartwatch. It can't get much easier than that.
Thinner wallet – Is your back aching from sitting on those debit, credit, gift, and loyalty cards? Is your wallet so full it will not zip anymore? Add cards to your mobile wallet and leave them in a safe place at home.
Lighter key ring – Is yours bulky and weighing you down? Lighten the load by adding those loyalty cards to your mobile wallet and you can say goodbye to those key tags.
Wondering why you even had to read the whole list before deciding to try it out for yourself? Add your SMB debit or credit card to your mobile wallet today – we think you'll like it.
After your card is added to your wallet of choice, you will simply hold your device up to the merchant's card reader to pay in stores. To pay inside apps and online, just look for and tap your wallet's logo at checkout.

Where can I make purchases?
You can make purchases with our mobile wallets at participating merchants online, in apps, and in stores. Look for the contactless symbol or your wallet's logo at checkout.

How am I protected when making payments with a mobile wallet?
Before deciding on a mobile wallet, look into what security features it offers to protect your card and personal information. With our mobile wallets, your card information is never shared when making purchases. Our fraud protection is the same for all card purchases – mobile wallet, swipe or dip. Each mobile wallet has options to protect you if your device is lost or stolen.
There are no fees associated with our mobile wallets. They're purely for your convenience so you can access your money the way you want.