Samsung Pay® is an easy way to pay with your SMB debit or credit card that earns you extra rewards on your everyday purchases. Make payments virtually anywhere you swipe your card using your compatible Samsung Galaxy Smartphone and Gear Smartwatch.
Sign up for Samsung Pay today and begin making secure, private mobile purchases with just the tap of your Samsung device. You still get all of the benefits and protection your card already provides.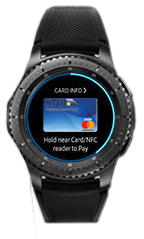 Easy to set up
Add your SMB debit or credit card to the Samsung Pay app to get started.
Convenient to use
Simply hold your Samsung smartphone or Gear smartwatch near the merchant's card reader. Using your smartphone, open Samsung Pay by swiping up on your screen and authorize the payment with your fingerprint, PIN or iris scan. Using your Gear smartwatch, long press the Back key to bring up Samsung Pay.
Samsung Pay allows you to pay at merchants that do not accept contactless payments because it makes payments two ways. Samsung Pay uses near-field communication (NFC) technology AND magnetic secure transmission (MST) to process payments. NFC technology communicates with the contactless/NFC compatible terminals while MST works with most all magnetic strip only terminals. When the phone is held against the terminal, the phone emits a magnetic signal that works like the magnetic strip found on the back of your card to complete the purchase.
Checking out with Samsung Pay is fast inside mobile apps – just select Samsung Pay at checkout and authenticate the purchase with your fingerprint, PIN number or iris scan.

Secure
Pay confidently knowing each Samsung Pay transaction uses a unique randomized set of numbers to keep your card number secure and is authenticated by your fingerprint, PIN number or iris scan. Samsung Knox technology provides an extra layer of security and constantly monitors your phone to keep your information safe.
Our fraud protection is the same whether paying with Samsung Pay or swiping your card.
Earn Even More Rewards
On top of the SMB Rewards you may be already earning by making purchases with your debit card, you may also earn Samsung Rewards. Earn Samsung Rewards points for every Samsung Pay purchase and redeem rewards for Samsung products, gift cards, and more.
How can I set my SMB debit card as a favorite in Samsung Pay?

If you have multiple cards added to Samsung Pay, you may set your SMB debit card as a favorite so it is easily accessible when you swipe up to access your digital wallet.
On a Samsung Smartphone, set a card as a favorite by selecting the card in the app, tapping the menu icon and selecting Set as Favorite.
On a Samsung Smartwatch, set a card as a favorite within your Gear app.
What if my Samsung Pay device is lost or stolen?

If your Samsung Pay device has been lost or stolen, you have a few options to protect yourself:
SMB Debit Cards – Call us at (800) 943-8488 and we will delete the Samsung Pay token associated with your card. Your debit card information will remain safe and will not be deactivated when the Apple Pay token is deleted.
SMB Credit Cards – Call the number on the back of your card to request your Samsung Pay token be deleted. Your credit card information will remain safe and will not be deactivated when the Apple Pay token is deleted.
If you've registered your device on Find My Mobile, you can use it to locate, remotely lock, or delete the device completely.

You may sign in to https://findmymobile.samsung.com/ or use the Find My Device app on another Samsung device.
Open Find My Mobile and if the missing device is located, you may view its location and ring your device to help you find it.
Using Find My Mobile to Lock your device disables all payments from being made on the device. Samsung Pay will request the card issuer suspend any transactions made from the device.
If your device is found, you can easily unlock your cards by authenticating your identity using your fingerprint, PIN number, or iris scan. The device and Samsung Pay will be unaffected.
Wipe your device. This will erase all information from the device including card information for Samsung Pay.

Why am I being asked to verify my card?
Security is our top priority and for security reasons, we may need you to complete one more step of verification. If this step is necessary when adding your card, we may ask you to confirm your identity using a one-time passcode via email or text. If prompted, please select how you wish to receive the one-time passcode and then enter that code into the appropriate field. You will also have the option to call us. We'll confirm some information and you'll be on your way quickly. Once your information is verified, you will receive a notification on your device letting you know your card is ready to use in Samsung Pay.
Samsung, Samsung Pay, Samsung Galaxy, Samsung Knox, Samsung Gear, Galaxy S and Gear S (and other device names) are trademarks or registered trademarks of Samsung Electronics Co., Ltd. Use only in accordance with law. Other company and product names mentioned may be trademarks of their respective owners. Screen images are simulated; actual appearance may vary. Samsung Pay is available on select Samsung devices