Apple Pay
®
is a convenient way to pay with your SMB debit or credit card that makes reaching for your wallet a thing of the past. This mobile payment solution is available right from your compatible iPhone
®
, Apple Watch
®
, iPad
®
and/or Mac
®
.
Sign up for Apple Pay today and begin making secure, private mobile purchases with just the touch of your finger. With Apple Pay you will still get all of the SMB Rewards, benefits and protection your card already provides.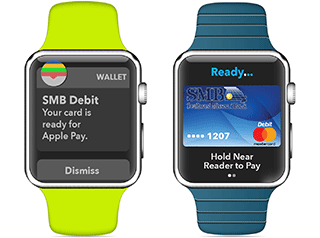 Easy to set up
Simply add your SMB debit or credit card to your Apple device's Wallet® app to get started. Apple will perform a simple validation with SMB before your card is ready to use.
Convenient to use
Simply hold your iPhone or Apple Watch near the merchant's card reader. Using an iPhone, authorize payment with your fingerprint using Touch ID®, with Face ID®, or passcode. Apple Watch payments are made with a quick double click of the side button.
You can use Apple Pay inside mobile apps, on the web in Safari, and in-stores — just look for the contactless symbol.

Secure 
Apple uses a device specific number and a unique transaction code to process your transactions, leaving your actual card information safe. Your card number is encrypted when you add your card and is never stored on your device or on Apple servers, and is never shared with merchants when you pay.
How can I set my SMB debit card to be the first option in Apple Pay?

If you have multiple cards added to Apple Pay, you may set your SMB debit card as the default so it is the first card presented when you go to make a purchase.
On iPhone and iPad, simply go to Settings, select Wallet & Apple Pay, tap Default Card and choose your SMB debit card from the cards listed.
On Apple Watch, go to your Watch app on your iPhone, select Wallet & Apple Pay, tap Default Card and choose your SMB debit card.
Why am I being asked to verify my card?

Security is our top priority and for security reasons, we may need you to complete one more step of verification. If this step is necessary when adding your card, we may ask you to confirm your identity using a one-time passcode via email or text. If prompted, please select how you wish to receive the one-time passcode and then enter that code into the appropriate field. You will also have the option to call us. We'll confirm some information and you'll be on your way quickly. Once your information is verified, you will receive a Wallet or Apple Watch app notification letting you know your card is ready to use in Apple Pay.
What if my Apple Pay device is lost or stolen?
If your Apple Pay device has been lost or stolen, you have a few options to protect yourself:
SMB Debit Cards – Call us at (800) 943-8488 and we will delete the Apple Pay token associated with your card. Your debit card information will remain safe and will not be deactivated when the Apple Pay token is deleted.
SMB Credit Cards – Call the number on the back of your card to request your Apple Pay token be deleted. Your credit card information will remain safe and will not be deactivated when the Apple Pay token is deleted.
If Find My iPhone is enabled on your missing device, you can use it to locate, remotely lock or delete the device completely.

Using a Mac or PC, you may sign in to the link below or use the Find My iPhone app on another iPhone or iPad.
Open Find My iPhone and if the missing device is located, you may view its location and have it play a sound to help you find it.
Turn on Lost Mode. Using Lost Mode, you can remotely lock your missing device. This will prevent anyone from using Apple Pay or accessing any other information. If your phone is found, you may turn off Lost Mode. The device and Apple Pay will be unaffected.

Erase your device. This will erase all information from the device – this will erase all data including card information for Apple Pay. The device will no longer show up using Find My iPhone.
If your missing device is off or offline, you may still put it in Lost Mode or remotely erase it. The next time your device is online, your chosen action will take effect.
It's easy to pay — with Apple Pay.
Missing out? Join in on the fun with SMB.
Apple, the Apple logo, iPhone, iPad, Mac, Apple Pay, Touch ID, Face ID, and Apple Watch are trademarks of Apple Inc., registered in the U.S. and other countries.