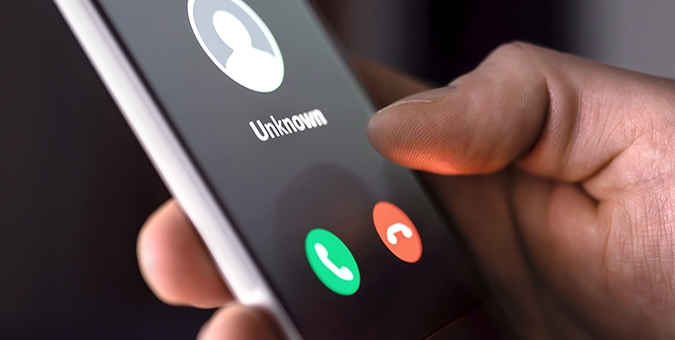 People lose a lot of money to phone scams — sometimes their life savings. Scammers have figured out countless ways to cheat you out of your money over the phone. In some scams, they act friendly and helpful. In others, they might threaten or try to scare you. Make sure you know what to do to keep your money and personal information safe with this information from the FTC.
How to Recognize a Phone Scam
Phone scams come in many forms, but they tend to make similar promises and threats, or ask you to pay certain ways. Here's how to recognize a phone scam.
Banks and government agencies aren't calling to confirm your sensitive information
Never give out sensitive information like your Social Security number, account number, verification code, or username and password to someone who calls you unexpectedly. Not even if they say they're with your bank, the Social Security Administration or IRS.
There's never a good reason to send cash or pay with a gift card
Scammers will often ask you to pay in a way that makes it hard for you to get your money back — by wiring money, putting money on a gift card, prepaid card or cash reload card, or using a money transfer app like Zelle, Cash App, Venmo, etc. Anyone who asks you to pay that way is a scammer.
You don't need to click a link they send or download a new app
If you receive an unexpected call asking you to click on a link they send or install a new app on your phone, hang up.
You don't need to decide now
Most legitimate businesses will give you time to think their offer over and get written information about it before asking you to commit. Take your time. Don't get pressured into making a decision on the spot.
You won't be arrested
Scammers might pretend to be law enforcement or a federal agency. They might say you'll be arrested, fined, or deported if you don't pay taxes or some other debt right away. The goal is to scare you into paying. But real law enforcement and federal agencies won't call and threaten you.
There is no prize
The caller might say you were "selected" for an offer or that you've won a lottery. But if you have to pay to get the prize, it's not a prize.

How to Stop Calls from Scammers
Hang up
Scammers can spoof any name or number show up on your caller ID. So even if it looks like it's a friend or your bank calling, it could be a scammer calling from anywhere in the world. If you suspect a scammer is posing as a friend or bank employee, hang up. Call your friend using the number you know to belong to them or visit your bank's website for an official number to call. If you get a robocall, don't press any numbers. It might lead to more robocalls, instead of letting you speak to a live operator or removing you from their call list.
Consider call blocking or call labeling
Scammers can use the internet to make calls from all over the world. They don't care if you're on the National Do Not Call Registry. That's why your best defense against unwanted calls is call blocking. Which type of call-blocking (or call-labeling) technology you use will depend on the phone — whether it's a mobile phone, a traditional landline, or a home phone that makes calls over the internet (VoIP). See what services your phone carrier offers, and look online for expert reviews. For mobile phones, you also can check out the reviews for different call-blocking apps in your online app store.

Examples of Common Phone Scams
Any scam can happen over the phone. But here are some common angles phone scammers like to use:
Imposter scams
A scammer pretends to be someone you trust — your bank, the Social Security Administration, the IRS, a family member, a love interest, or someone claiming there's a problem with your computer. The scammer can even have a fake name or number show up on your caller ID to convince you.
Loan scams
Loan scams include advance fee loan scams, where scammers target people with a poor credit history and guarantee loans or credit cards for an up-front fee. Legitimate lenders don't make guarantees like that, especially if you have bad credit, no credit, or a bankruptcy.
Charity scams
Scammers like to pose as charities. Scams requesting donations for disaster relief efforts are especially common on the phone. Always check out a charity before you give, and don't feel pressured to give immediately over the phone before you do.
Debt relief and credit repair scams
Scammers will offer to lower your credit card interest rates, fix your credit, or get your student loans forgiven if you pay their company a fee first. But you could end up losing your money and ruining your credit.
Business and investment scams
Callers might promise to help you start your own business and give you business coaching, or guarantee big profits from an investment. Don't take their word for it.
Learn about the FTC's Business Opportunity Rule
, and check out investment opportunities with your state securities regulator.
"Free" trials
A caller might promise a free trial but then sign you up for products — sometimes lots of products — that you're billed for every month until you cancel.
Prize and lottery scams
In a typical prize scam, the caller will say you've won a prize, but then say you need to pay a registration or shipping fee to get it. But after you pay, you find out there is no prize.
Travel scams and timeshare scams
Scammers promise free or low cost vacations that can end up costing you a lot in hidden costs. And sometimes, after you pay, you find out there is no vacation. In timeshare resale scams, scammers lie and tell you they'll sell your timeshare — and may even have a buyer lined up — if you pay them first.
Learn more about unwanted calls and what to do about them at the
FTC website
.