Get 24/7 access to the funds in your checking account with an SMB debit card. Our debit cards are easy to use, convenient, and safe - with no annual fee. Plus, sign up for SMB Rewards and earn points on all debit card purchases!
Convenient
Use your debit card anywhere Mastercard® is accepted and at any ATM – worldwide.
Secure
You get state-of-the-art fraud risk monitoring and protection. We proactively monitor your transactions 24/7 and alert you if a suspicious transaction occurs.

Fast
Get your debit card instantly at any of our branches.
We do not mail instant issue debit cards or print them ahead of time.
Some fees and restrictions may apply.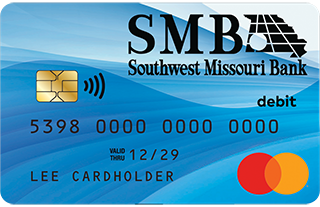 You get the bells and the whistles
Rewards
Sign up for SMB Rewards and earn points on all debit card purchases. Cash your points in on gift cards to your favorite restaurants and retailers.
Not available for Business Debit Cards.
Pay Without Plastic
All of our debit cards can be added to Apple Pay, Samsung Pay, or Google Pay for fast, secure payments from your mobile device. Add your SMB debit card to your mobile wallet today.
Mobile Access
Manage your debit card within your SMB Online. Misplaced your card? Temporarily lock it to help prevent unauthorized purchases. Traveling? Set a travel notification letting us know where you'll be using your card.
It's that easy!
24/7 Monitoring
Fraud monitoring reviews how and where your card is being used to help block potential debit card fraud. We'll text, email or call you when potential fraud is detected. Our messages will never ask for your PIN or account number.
This is our bank. They're part of our family!

"I moved away from the Joplin area and SMB is still our bank!"

"Love working with SMB personally and for business."

"SMB has always been there when I needed help."

"We have been banking with SMB for over 25 years. Checking, savings, and loans, they are the best ever. We will always bank with SMB."

"Absolutely the only place to bank."

"Best bank in the area. Love SMB."

"The best bank there is. Will never go anywhere else. You rock SMB."

"Love our home town bank and the service they provide!"
"Best bank, hands down!!"

"Local, friendly, and always great customer service!"
"SMB customer service is Amazing!"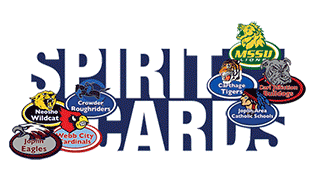 School Spirit Card
Show your school pride with an SMB Spirit Debit Card! A $15 fee will be debited from your checking account for each Spirit Card ordered, of which $7.50 will be donated to your school.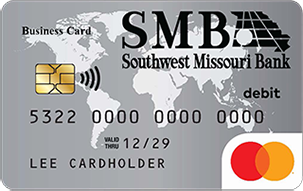 Business Debit Card
Save time and money with our Business Debit Card. When running a business, you need a card that is flexible enough to keep up. Easily make purchases anywhere Mastercard® is accepted – in-store and online.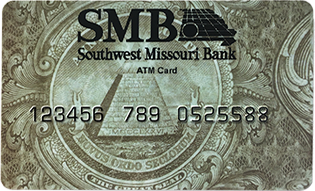 ATM Card
Our ATM card is a great starter card and can be used at any ATM or PIN-based terminal. Your ATM card is activated no later than the next business day, giving you quick and easy access.
All you need is an SMB account to get started.