Protect yourself while shopping online
---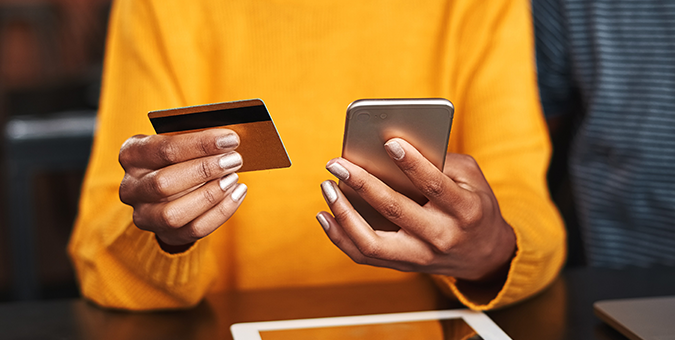 This holiday season, even more than in the past, many people will do lots of shopping online. It seems that every day we get emails and texts with "special offers!" or "Free shipping if you order today!" As your bank, we want to make sure you know how to shop safely online, so check out these tips.
Whenever possible, order from stores you already know and trust
There are many fake websites that prey on people looking for great deals. They may look exactly like the website you're used to seeing, but they have been set up by criminals who want to steal your money and information. If a product seems too cheap to be true, it usually is! Check the website address and phone number carefully. You might even try calling the phone number to speak to a human. If you can't get through, that's a red flag! Type the store's name or URL into a search engine and read what others have said about the website. Look for words like "fraud" or "scam." And always check before you order to make sure your connection is encrypted. Most browsers will have a lock and/or the letters HTTPS in green right before the website's name.
Make sure your phone, computer, tablet, and Wi-Fi are secure
Keep your anti-virus software up to date and always use strong passwords when shopping. When setting up a password at a new shopping site, make sure it is new and different from the others. You might even try to download apps from stores rather than go to the website – many of the larger stores like Amazon, Best Buy, and Walmart have user-friendly apps that make it easy to search, shop and check out. If you are using a public computer make sure no one can see your information as you enter it and always log out before you leave.
Be cautious when using your credit or debit card to shop online
Review your statements carefully to make sure all charges are legitimate, and take advantage of any alerts offered so you can receive a notification if there is an unusual charge. If your card is compromised, call your card company immediately. Consider using one card for online purchases so it's easy to monitor. If you use a debit card instead of a credit card, keep in mind that money is withdrawn immediately after the purchase and it can be more difficult to get the money returned.
We wish you a joyful holiday season and are always here to help if you have any questions.
Happy shopping!