Quickly deposit checks into your business account from your office using a desktop scanner. In the time it takes you to lock your office to come to the bank, you could have scanned your checks for deposit. Streamline your record keeping with deposit reports and access to images of your deposited checks.
Easy to Use
Scan all your checks and electronically submit them for deposit into your business account.
Secure
Checks images are sent to us via secure data transmission so your deposit information remains safe.
Local Service
We come to your business, set up your scanner, and are always available to help when you need support or have questions.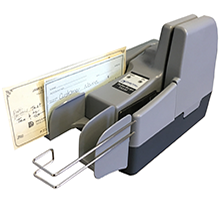 Are you ready to see how a desktop scanner can benefit your business?
Contact our Electronic Services department to get started!